Best value
Inverex AEROX PLUS 5.2 KW SOLAR
Model:  Aerox Plus 5.2 KW Inverter
Efficiency: 97%
Rated Power: 5200 VA / 5200 W
Weight: 10KG
Surge Power: 10400VA
Frequecy Range: 50 HZ / 60 HZ
Inverex Aerox Plus 5.2 KW Solar Inverter Price in Pakistan is 140,500/
Inverex Aerox Plus 5.2 KW solar inverter Price in Pakistan is PKR 140,500. This is one of the leading solar companies in Pakistan. They provide a lot range of customized integrated solar solutions and home products to different sectors. The manufacturing and suppling plant is in China. Mr. Zakir Ali is the owner of Inverex. The Inverex Invertor provide the power to various appliances in home or office environment. Including motor type appliances such as Air conditioner, refrigerator, light, fan etc. It Is the upgraded smart generation and intelligent solar inverters. Advanced MPPT solar charger up to 50 AMP and battery equalization.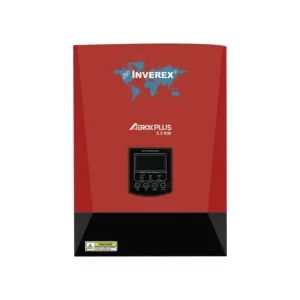 Specification:
Model:  Aerox Plus 5.2 KW Inverter
Efficiency: 97%
Rated Power: 5200 VA / 5200 W
Weight: 10KG
Surge Power: 10400VA
Frequecy Range: 50 HZ / 60 HZ
Voltage:  230 VAC
Specifications
Model Number:          5.2KW 
Input
Voltage:                                        230 VAC
Selectable Voltage Range:    170-280 VAC (for personal computer) 90-280 VAC (for home                                                                                                                                                  appliances)
Frequency Range:                 50 Hz/60 Hz (Auto sensing)
Output (Off Grid)
AC voltage Regulation (Batt. Mode): 230 VAC ±5%
Overland Capacity: 5s at ≥150% load; 10s at 110%-150% load; 100ms at ≥200% load
Efficiency Peak:                          90%
Transfer Time:                            10 ms (for personal computer), 20 ms (for home appliances)
Wave form:                                   pure sine wave
Output (Grid-Tie Operation)
Nominal Output Voltage: 220/230/240/ VAC
Output Voltage Range: 184-264.5 VAC or 195.5-253 VAC (Selectable)
Nominal Output Current: 22A
Power Factor: >0.99
Battery
Battery Voltage:                    48 VDC
Floating Charge Voltage:      54 VDC
Overcharge Protection:        64 VDC
Solar Charger and AC Charger
Solar Charger Type:                        MPPT
Minimum PV Array open circuit:  450 VDC
Medium PV Array Power: 5000W
MPP Range at operating range:    120-430 VDC
Maximum Solar Charge Current:   80 A
Maximum AC charge current:        80 A
Dimensions
Width:                         295mm
Height:                        465mm
Depth:                         140mm
Net Weights:              12.2 Kgs
Communicating Interface: USB/RS232
Operating Environment
Humidity:    5% TO 95% Relative Humidity (Non-Condensing)
Operating Temperature: -10◦C to 50◦C
Storage Temperature: -15◦C to 60◦C
Check out more Inverex solar inverters.
Happy Shopping with Costyo.pk
Specification:
Inverex AEROX PLUS 5.2 KW SOLAR
| | |
| --- | --- |
| Solar Inverter Sizes | 5.2KW |
| Solar Inverter Types | Hybrid Inverter |
User Reviews
Only logged in customers who have purchased this product may leave a review.