Best price
Haier HSU-12LFCB-013USDC (W) 1.0 Ton Cool Inverter Series AC
Capacity: 1.0 TON
Type:  Floor Standing
Inverter:  YES
Energy Efficient:  High Efficien
Warrenty:  05 Year Compressor Warranty-01 Year Parts Warranty
 Haier HSU-12LFCB-013USDC (W) 1.0 Ton Cool Inverter Series AC Price in Pakistan
Haier HSU-12LFCB-013USDC (W) 1.0 Ton Cool Inverter Series AC Price in Pakistan is PKR. 66,000. Heir is the Chinese based multinational home appliances and consumer electronics company. It is the top ranked in appliances also most reliable company. The slogan of this brand is Excellence is the Journey not the destination. It has the 1.0 ton capacity with invertor. This is the Wall-mounted type with hidden LED. Available in white color. Also smart control feature available. Haier offering the 10 years compressor, 4 year PCB, 1 year parts warranty.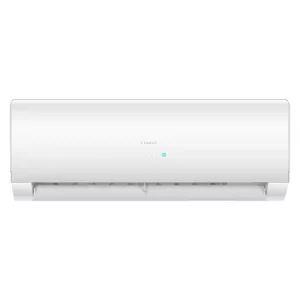 Specification:
Capacity: 1.0 TON
Type:  Floor Standing
Inverter:  YES
Energy Efficient:  High Efficien
Warrenty:  05 Year Compressor Warranty-01 Year Parts Warranty
Detailed Information
General
Ton: 1 Ton
Fixed or Invertor: DC invertor
Cooling Capacity (BTU): 13000
Air Circulation (m³/h): 700
Power input W (Cooling): 450 ~ 1410
Running Current A (Cooling): 2.4~6.6
Power Supply (Ph/V/Hz): 1/220/50
Capacity Wise: 1 Ton
Category Wise: DC invertor
Appearance:
Color: White
Type: Wall Mounted
Display: Hidden LED
Main Part
Refrigerant: R32
Refrigerant pipe: Liquid Side (6mm), Gas Side (9mm)
Body & Dimensions
Indoor Dimensions
Width: 850mm (33.4")
Depth: 295 (11.6")
Height: 210 (8.2")
Outdoor Dimensions:
Width: 700mm (27.5')
Depth: 245mm (9.6")
Height: 535 (21")
Warranty:
10 Year Compressor, 4 Year PCB, 1 Year Parts
Specification:
Haier HSU-12LFCB-013USDC (W) 1.0 Ton Cool Inverter Series AC
| | |
| --- | --- |
| AC Brands | Hair |
| AC Features | Heat and Cool, Low Voltage Operation, Twin Rotary Compressor, WiFi |
| AC Capacity | 1 Ton (12000 BTU) |
| AC Technology | Inverter AC |
| AC Type | Split Air Conditioner |
User Reviews
Only logged in customers who have purchased this product may leave a review.

Haier HSU-12LFCB-013USDC (W) 1.0 Ton Cool Inverter Series AC