Best price
Dell Vostro 3510 Core-i5
Screen Size: 15.6 Inches
Memory: 256 GB
Ram: 8 GB
Battery: 3-Cell Battery, 41WHr
Camera: 720p at 30 fps HD camera
Screen Resolution: 1920 X 1080
Dell Vostro 3510 Core-i5 Price in Pakistan 15.6″ Screen (8G RAM – 256GB SSD)
Dell Vostro 3510 Core-i5 Price in Pakistan.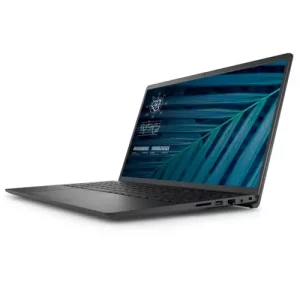 Specification:
Screen Size: 15.6 Inches
Memory: 256 GB
Ram: 8 GB
Battery: 3-Cell Battery, 41WHr
Camera: 720p at 30 fps HD camera
Processor Type: Intel Core i5 -1135G7
Processor Speed: 8MB Cache, up to 4.2 GHz
Screen Resolution: 1920 X 1080
Touch Screen:  NO
BackLite KeyBoard:  Yes
Graphic Memory: Intel UHD Graphics
BlueTooth: Bluetooth 5.0
Wifi: Wireless 802.11ac 1×1
Finger Print Reader: Yes
USB: 3 ports
Dell Vostro, this laptop category, is business-oriented and precisely aimed at small or mid-range businesses. Its 15.6″ display provides a fabulous look.
Processor:
11th Generation Intel Core i5-1135G7 processor is used with a 4.2 GHz (8MB cache).
Display:
It has a beautiful display of 15.6 inches FHD with a resolution of 1920 x 1080 and an anti-glare LED Touch Screen narrow border WVA display.
Storage:
It has a built-in 8GB Ram(8GBx1), 2666 MHz which can be upgraded if needed, and a 512 GB SSD.
Design & Dimensions:
Its dimensions are
Front Height of 0.69″ (17.5mm)
Rear Height of 0.74″(18.9mm)
Width of 14.11″ (358.50mm)
Depth of 9.27″ (235.56mm)
Weight of 3.72LB (1.69kg)
Color:
It is available in carbon black and titan grey colors.
Camera:
The camera is 720p at 30 fps HD, and the single integrated microphone
Fingerprint:
Has a fingerprint sensor and
Bluetooth:
Advanced 5.1 Bluetooth.
Battery:
It has a battery of 3 cells and 41W, Lithium-Polymer.
Want to check more Dell laptops, visit Dell Laptop store.
Happy Shopping with Costyo.pk 😊
Specification:
Dell Vostro 3510 Core-i5
User Reviews
Only logged in customers who have purchased this product may leave a review.