Best price
Apple MacBook Air MVH42
Screen:  13.3 Inches
Memory:  512 GB
Ram:  8 GB
Battery: Built-in 49.9‑watt‑hour lithium‑polymer battery
Processor Type:  Intel Core i5
Processor Speed:  1.1GHz quad-core Intel Core i5, Turbo Boost up to 3.5GHz, with 6MB L3 cache
Apple MacBook Air MVH42 Price in Pakistan-13.3″ Screen Core-i5   8GB RAM – 512GB SSD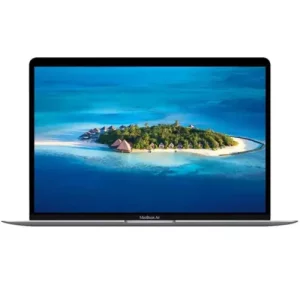 Specification:
Screen:  13.3 Inches
Memory:  512 GB
Ram:  8 GB
Battery: Built-in 49.9‑watt‑hour lithium‑polymer battery
Processor Type:  Intel Core i5
Processor Speed:  1.1GHz quad-core Intel Core i5, Turbo Boost up to 3.5GHz, with 6MB L3 cache
Screen Resolution:  2560 x 1600
Backlite KeyBoard:  YES
Touch Screen:  NO
BlueTooth:  YES
Wifi:  YES
USB:  3 Ports
Camera:  720p FaceTime HD camera
Apple MacBook Air MVH42 Price in Pakistan is 170,000-/. MacBook Air is a thin, lightweight laptop that is fast enough for browsing, working on documents and editing photos and videos on a limited scale. Before 2020 Mac used the intel CPUs and thunderbolt interface, but after 2020, Apple switched to its M1 chip and offered another designed chip in 2021.
Technology:
Apple MacBook Air is a quick, silent, fanless, beautiful retina display laptop. Specially designed for practical business work,
Display:
Its 13.3″ display provides a fabulous look. (diagonal) LED-Backlit display with IPS technology at 2560×1600 resolution at 227 pixels per inch.
Processor:
It has the 10th Generation core-i5 dual processor(2core-4threads) with 1.1GHz quad-core intel core-i5 and 3.5GHz turbo boost (6MB L3 cache).
RAM & Storage:
Its memory and storage are.
RAM: 8GB built-in memory
Storage: 512GB SSD
In MacBook, you can't upgrade the memory.
Design & Dimensions:
Its dimensions are.
Width: 304.0mm (11.97″)
Depth: 212.3mm (8.36″)
Height: 16.0mm (0.63″)
Weight: 2.8LB (1.28kg)
Colors:
Available in a beautiful Silver color
Camera:
An Advanced 720p FaceTime HD camera.
Fingerprint:
It comes with a Touch Id sensor
Bluetooth:
Advanced 5.0 Bluetooth.
Battery:
It has an impressive MacBook Air's most long-lasting battery life of 49.9-watt lithium polymer, which last up to 18 hours on Apple TV app movie playback.
Specification:
Apple MacBook Air MVH42
| | |
| --- | --- |
| Color | Silver |
| Memory | 512GB |
User Reviews
Only logged in customers who have purchased this product may leave a review.